Let the SAL begin!
Elke zomer neem ik me voor minder handwerkspullen aan te schaffen. De praktijk is toch dat ik 's avonds niet ontspannen op mijn stoeltje zit, maar een extra fietstochtje of wandeling maak, of in de tuin aan het rommelen ben. Maar het blijft moeilijk. Dan komt er weer een speldenkussenpatroon van de
Speldenkussenclub
en dan weer heb ik ineens – bijna tot mijn eigen verrassing – de
Needles Dance
besteld. Zoiets unieks en moois kon ik natuurlijk niet aan me voorbij laten gaan. Nu pak ik dus, als het echt donker is geworden, pas rond half elf mijn borduurspullen en ga nog even aan de gang. Slecht voor mijn nachtrust, want dat even wordt altijd langer dan ik van plan was.
Tot mijn verbijstering zie ik op
Facebook
mensen lekker in de zon borduren en soms zelfs op het strand! Het is mij niet gegeven: ik krijg plakvingers, mijn werk wordt smoezelig, het valt op de grond, of er valt iets overheen. Je kunt het niet even neerleggen, dan waait het weg. En aan het strand? Hoe doe je dat? Zand overal, zonnebrandspul aan je vingers en aan je werk, en bovendien is het me veel te heet. In de zon kan ik niet eens dénken, laat staan geconcentreerd kruisjes tellen. In de zomer borduren, het is niet écht iets voor mij.
Maar dan… dan komt er een
Summer-SAL
! En ik ben dol op SAL's (Stitch Along Together). Het is zo'n prachtige samensmelting van hedendaagse digitalisering en het ambachtelijke handwerk. Met zijn allen aan hetzelfde werk werken, je vorderingen delen, geweldig! Borduursters die hun eigen draai aan een ontwerp geven, andere kleuren gebruiken, ook gaaf! En iedereen week is het weer spannend: wat gaan we nu weer doen? Ik heb zo genoten van de afgelopen SAL's, en niet te vergeten de adventskalender, die ook een SAL was. Zo gaaf!
Dus alle voornemens liggen weer in de hoek. De materialen voor de Summer SAL liggen te wachten. Simone's Choice is het geworden. Ik ben er klaar voor: let the SAL begin!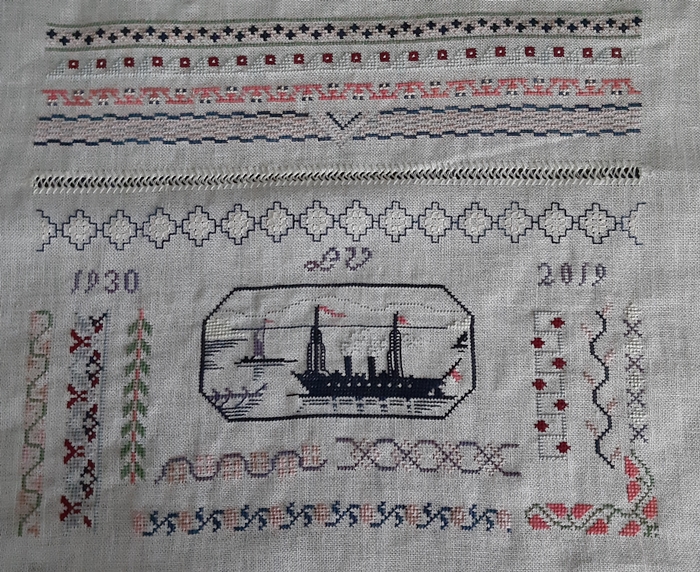 Aan de Sampler SAL van begin dit jaar heb ik ook zo veel plezier beleefd. Zeker omdat mijn opa op de grote vaart voer. Ik was helemaal blij met het scheepje. Afwerken wordt, zoals jullie weten, weer een dingetje…
lori j
- 19-08-2019
oh, i understand! i'm a winter cross stitcher. i love those long, dark evenings when i can pick up my handwork & spend hours undisturbed. that makes me so happy. love the traditional &/or unusual patterns. they feed my soul. xoxo
Ineke van Buren
- 08-07-2019
Wat een gezellig stukje om lekker te lezen bij mijn kopje heet water. Vooral deze zin is geweldig: "Het is zo:'n prachtige samensmelting van de hedendaagse digitalisering en het ambachtelijke handwerk"🌻🌺🌼
Margriet
- 08-07-2019
Super wat een leuk stukje zo herkenbaar. Top