Hands Across the Sea Samplers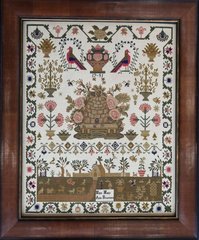 Hands Across The Sea Samplers is een ontwerp studio van twee vriendinnen Nicola and Sandra. Ze zijn gespecialiseerd in het reproduceren van antieke merklappen uit Nicola's persoonlijke collectie, volgens de hoogste standaarden. De meeste merklappen zijn Engels, maar de collectie is divers.

Alle patronen zijn uitgevoerd in "full colour" en zijn weergegeven in zowel symbolen als gekleurde blokjes. De patronen zijn ontworpen met het gebruik van Au Ver A Soie zijdegaren "Soie D'Alger" (AVAS), maar een DMC conversie is ook aangegeven in het patroon.