BOM's & Clubs
Diverse ontwerpers bieden BOM's (Blok van de Maand) of Series per maand aan. Je kunt je hier inschrijven zodat je ieder deel automatisch iedere maand ontvangt.


Bezig met laden...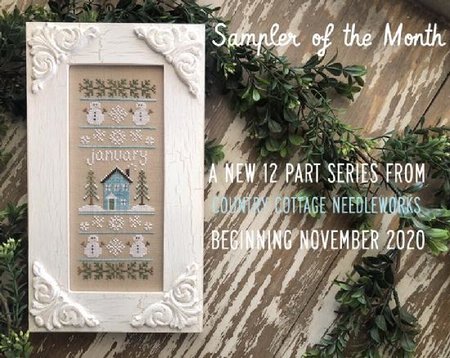 Sampler of the Month CLUB PRE-ORDER
Country Cottage Needleworks komt met ingang van November 2020, weer met een nieuwe serie: "Sampler of the Month". 12 kleine merklapjes, passend bij iedere maand van het jaar. Januari is de eerste met leuke sneeuwmannen.
Vanaf eind november/begin december verschijnt er iedere maand een nieuw patroontje, gedurende 12 maanden. Je kunt er voor kiezen om alle patroontjes in één keer te betalen; € 91,00. Of per maand; 12 x € 8,00. Deze bedragen zijn inclusief verzendkosten*. Als je voor de optie "per maand" kiest betaal je de eerste nu gelijk, de rest betaal je iedere maand via Ideal of bank.
Stof: De patroontjes worden afzonderlijk van elkaar geborduurd. Hierdoor heb je een flinke lap stof nodig. Ik heb een bijpassende kleur van Zweigart uitgekozen namelijk "
Antique Ivory
" (233) aan. De stof heeft 12,6 draden per cm. Ieder patroontje is 45 x 125 kruisjes, dat is 7,5 x 20 cm. Als je het linnen mee bestelt ontvang je een stuk van 100 x 140 cm voor € 45,00. Dan heb je genoeg extra ruimte voor het inlijsten of afwerken voor alle 12 merklapjes.
Garen: Deze garens heb je nodig voor de 12 patronen:
27 x Classic Colorworks: 6 x Snowball, 5 x Little Sprout, 3 x Wagon Wheel, 2 x Really Teally, 2 x Pumpkin Harvest, 2 x Finley Gold, 2 x Pink Posey, 2 x Cherry Tomato, 1 x Hickory Sticks, 1 x Frozen Margarita, 1 x Sunkissed.
Je kunt een compleet pakket met alle garens bestellen voor € 70,00. Als je de garens mee bestelt, ontvang je deze allemaal ineens bij het eerste patroontje*.
Op het patroon staan eventueel ook de DMC nummers vermeld, mocht je die liever willen gebruiken.
Aanmelden
alléén
via de webwinkel!
* De prijzen zijn inclusief verzendkosten binnen Nederland.
Buiten Nederland komen er nog extra verzendkosten bij.
LET OP! Dit is een pre-order!
Als je andere artikelen mee bestelt worden deze ook eind november/begin december geleverd.