Atelier Soed Idee
Under the name Atelier Soed Idee did I -
Simone de Jong
- started in 2011 as a designer of cross stitch patterns. Become famous with "
Randje per Week
", but I also have my own designs and reproductions of Antique, Dutch samplers. Most patterns are smalls inspired by Dutch samplers.
Here you will find all products, patterns, packages, etc. that I have devised, designed and put together with great love.


Loading...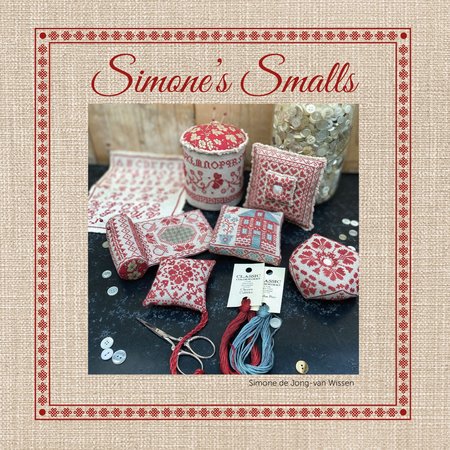 Simone's Smalls
When you say "Soed Idee" you say "Randje per Week", "RED" and "Pincushion Club".
And if you throw all those elements into Simone's brain with a good dose of inspiration, you get "Simone's Smalls"!
Simone designed a number of small embroidery projects ("Smalls"), inspired by the Randjes and embroidered them all in her favorite color red. Such as a pindrum, biscornu, mattress cushion, needle roll, etc. Finished with a beautiful French General fabric, it became a beautiful collection!

All patterns with complete work descriptions are in the new book "Simone's Smalls". The book is in both Dutch and English and also contains a bonus pattern for a small sampler.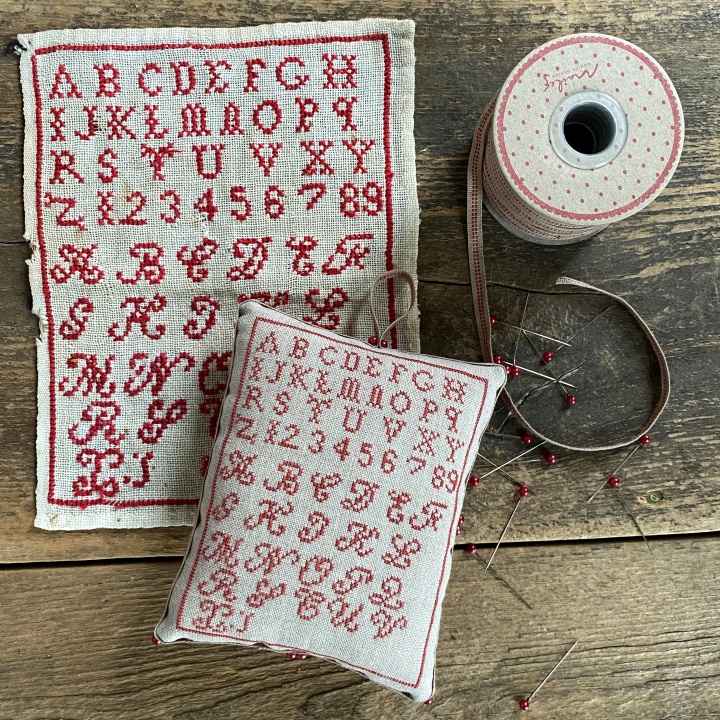 Details:
* 40 pages
* In both Dutch and English
* Soft cover
* 21 x 21 cm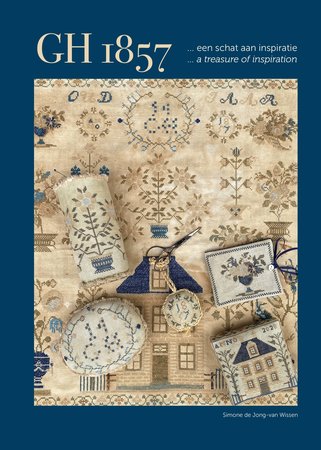 GH 1857 a treasure of inspiration.
A few years ago I bought this beautiful antique sampler "GH1857" that stands out because of the use of color. This was the inspiration for the Pincushion Club of 2020-2021. By popular request I have now also put the entire sampler on a pattern and published it in this beautiful book together with the patterns of the Pincushion Club.
The book contains the pattern of the sampler, all patterns and work descriptions for the pincushions and needle book and an alphabet for the personalization of your project. Size Sampler: 301W x 294H (19" x 18 1/2" on 32 ct fabric)

The book is softcover, A4 format, in Dutch and English, and has 32 pages. In addition, a handy loose thread card has been added with the legend.

DESPITE THE CAREFUL PREPARATION, THERE IS AN ERROR IN THE LEGEND
BELOW AT THE "ATTACHMENTS" YOU CAN DOWNLOAD THE CORRECT LEGEND.

If you can't handle the Dutch webshop, please contact me by email, with your full mailing address.

TO FOREIGN CUSTOMERS:
The books are now also available in foreign countries! In USA at The Attic Needleworks, Hobby House Needleworks, Shepherds Needle, Saltbox Needleworkes, Victorian Rose Needlearts Shoppe. In Australia at The Crewel Gobelin.

TO WHOLESALE CUSTOMERS: In USA the books are available from Hobby House Needleworks and ICG Distributors. Or contact me directly for options.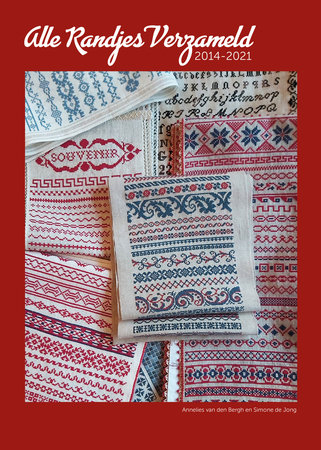 Alle Randjes Verzameld 2014-2021
The latest bands were only published on the Facebook group "Randje per Week"… Until now!
After many requests Annelies and I have also published "Randje per Week 2021" in book form: "Alle Randjes Verzameld".
This book contains the full Randje pattern per Week 2021. But not just this pattern. The book contains ALL the bands from 2014 to now. That's over 400! A real must-have!
The book is a very complete reference work in which all bands are sorted by height, from 1 crosses high to 31 crosses high.
The book is softcover, A4 format and has 48 pages full of Bands inspiration.