Hieronder vindt je alle producten die geassocieerd worden met
"vrouw"
.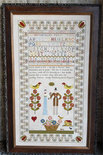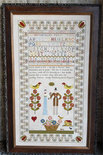 Love in the Garden
Borduurpatroon Love in the Garden van Samplers Not Forgotten.
16 pagina's A4.

Afmeting: 325W x 609H kruisjes
Stof: 40 ct. (16 draads) Vintage Light Examplar - Lakeside Linens
Zijdes: Gloriana: Lacquered Gold, Branch Coral, Sunflower, Sage, Coffee Bean, Pacific BlueDark, Birch Brown, Mary Woods Blue, Ollalieberry, Pumpkin, Schoolhouse Red, Green Tea, Fawn, Flamingo
NPI: 242, 244, 663, 701, 991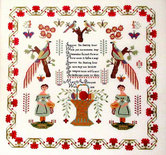 Mary Ann Pearson 1838
Engelstalig Borduurpatroon van Queenstown Sampler Designs, reproductie van een antieke merklap uit Engeland .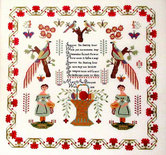 Mary Ann Pearson 1838
Borduurpatroon " Mary Ann Pearson 1838 " van Queenstown Sampler Designs. Reproductie van een antieke merklap uit Engeland.

Afmeting: 394W x 377H kruisjes (56 x 53 cm op 14 draads stof)
Stof: 36 ct. (14 draads) Lakeside Linens, kleur Bisque
Garens: DMC 223, 433, 502, 523, 730,758, 796, 801, 816, 817 (2), 832, 951, 976, 3012, 3045, 3046, 3051, 3052, 3371, 3721, 3777, 3821, 3888(donkerder dan 3041)



REVIEW
Jacqueline: "Op zoek naar een wat minder bekend merk borduurgaren kwam ik bij Atelier Soed idee terecht. Voor het eerst iets besteld. Ik was al onder de indruk van de heldere en gebruiksvriendelijke website, ook de levering was netjes op tijd en goed verzorgd. Mooi zakje, leuke kaart erbij, helemaal af!"
Soed Idee Mail
Schrijf je in voor de Soed Idee Mail! We zullen je niet spammen, maar wel regelmatig op de hoogte houden van de laatste nieuwtjes. Je kunt je altijd uitschrijven als het toch teveel wordt.