BOM's & Clubs
Various designers offer BOMs (Block of the Month) or Series per month. You can register here so that you automatically receive each part every month.


Loading...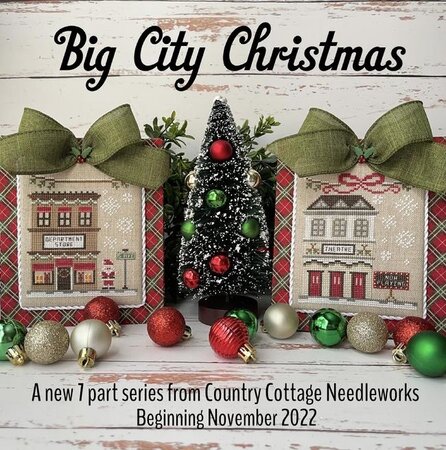 The Big City Christmas Club
Country Cottage Needleworks is back with a new series starting November 2022: "The Big City Christmas". 7 small patterns.
From the end of November/beginning of December, a new pattern will appear every month for 7 months. You can choose to pay for all patterns at once; € 65,00. Or per month; 7 x €10,00. These amounts include shipping costs*. If you choose the "per month" option, you pay the first immediately, the rest you pay every month via Ideal or bank.
You enter into an obligation for the entire term of the Club!
Number of Stitches: 59 W x 71 or 72H
Size stitched: 19 x 11,5 cm on 32 ct linen
stitched together: 413 W x 72 H (66 cm x 12 cm)
Fabric:: 32 ct. "Lambswool" by Permin or Zweigart Oatmeal
Floss: You need these for the 7 patterns:
CCW: Snowball (3), Little Sprout (2), Onion Skin (2), Licorice Red (2), Hickory Sticks (2), Baking Tin (2), Eggshell (2), Wagon Wheel (1), Cocoa Bean (1), Thundercloud (1), Cherry Tomato (1).
DMC 743, 754, 3064
You can order a complete package with all yarns for € 60,00. If you order the floss, you will receive them all at once with the first pattern*.

The DMC numbers may also be listed on the pattern, if you prefer to use them.

Sign up only via the webshop!


* The prices include shipping costs within the Netherlands. Outside the Netherlands, additional shipping costs will be added.
PAY ATTENTION! This is a pre-order!
If you order other items, they will also be delivered at the end of November/beginning of December.