BOM's & Clubs
Various designers offer BOMs (Block of the Month) or Series per month. You can register here so that you automatically receive each part every month.


Loading...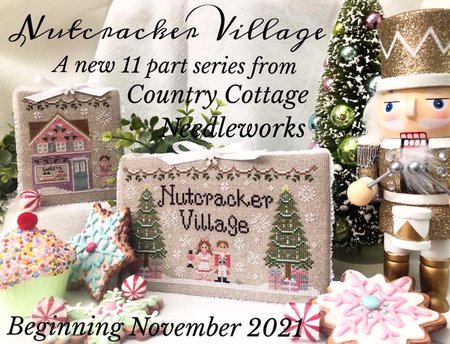 Nutcracker Village CLUB PRE-ORDER
Country Cottage Needleworks komt met ingang van November 2021, weer met een nieuwe serie: "Nutcracker Village". 11 kleine patroontjes.
Vanaf eind november/begin december verschijnt er iedere maand een nieuw patroontje, gedurende 11 maanden. Je kunt er voor kiezen om alle patroontjes in één keer te betalen; € 90,00. Of per maand; 11 x € 8,50. Deze bedragen zijn inclusief verzendkosten*. Als je voor de optie "per maand" kiest betaal je de eerste nu gelijk, de rest betaal je iedere maand via Ideal of bank.
Je gaat een verplichtiging aan voor de gehele looptijd van de Club!
Eerste maand : 118w x 71h ( 18,8 x 11,4 cm op 12,6 draads stof)
De overige 10 delen : 59w x 71h per deel ( 9,4 x 11,3 cm )
Kies je voor alle delen op 1 lap : 236w x 217h ( 37,5 x 34,5 cm)
Stof : "Raw/Silver"linnen by Zweigart
Als je de stof meteen mee bestelt ontvang je een stuk van 50x70 cm. Je kunt kiezen uit 12,6 draads Raw met zilveren glitter voor € 15,00 of zonder glitter voor € 13,00
.
Garen: Deze garens heb je nodig voor de 11 patronen:
CCW : Snowball (7), Little Sprout (3), Rain Shower (3), Blushing Beauty (3), Wagon Wheel (3), Sugar Plum (2), Hazelnut (2), Grasshopper (2), Finley Gold (1), Cherry Tomato (1)
DMC : 647, 754, 3064 en 3371
Je kunt een compleet pakket met alle garens bestellen voor € 75,00. Als je de garens mee bestelt, ontvang je deze allemaal ineens bij het eerste patroontje*.
Op het patroon staan eventueel ook de DMC nummers vermeld, mocht je die liever willen gebruiken.
Aanmelden
alléén
via de webwinkel!
* De prijzen zijn inclusief verzendkosten binnen Nederland.
Buiten Nederland komen er nog extra verzendkosten bij.
LET OP! Dit is een pre-order!
Als je andere artikelen mee bestelt worden deze ook eind november/begin december geleverd.