Huisjes bouwen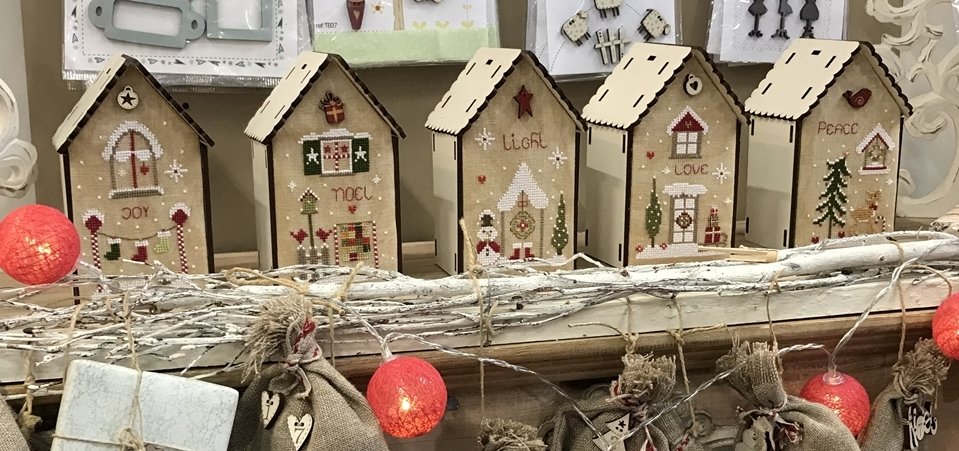 HOE DAN?
Dan heb je het patroon van het
kersthuisje
geborduurd, maar dan...? Hoe wordt die stapel plankjes een huisje?
Ik heb toen ik mijn huisje bouwde heel veel foto's gemaakt, dus ik ga het jullie proberen uit te leggen.
Wat heb je nodig?
potlood
schaar
karton
mesje
liniaal
kwastje voor de lijm
stukje "hobbs" (vulmateriaal)
iets eronder (voor het knoeien met lijm)
nat doekje (boekbinderslijm is wateroplosbaar. Met een doekje bij de hand kun je tussendoor makkelijk je vingers schoonmaken)
Klaar voor? We gaan beginnen!
Neem de voorkant van het huisje en teken dit over op het karton.
Snijd uit met een mesje en liniaal
Smeer het kartonnen huisje helemaal in met boekbinderslijm en plak dit op de hobbs (vulling).
Knip of snijd de overtollige hobbs rondom weg.
Leg het kartonnetje op de achterkant van het borduurwerk (zorg dat het borduurwerk mooi in het midden zit) en teken af.
Knip rondom uit met ongeveer 1,5 cm naadtoeslag. De punt knip je recht af.
Smeer op de onderste hoeken wat lijm en vouw de punten naar binnen
Plak vervolgens alle andere randjes vast. Let daarbij op dat je borduurwerk in het midden blijft!
Wees niet te zuinig met lijm! Zorg dat alle randjes goed ingesmeerd zijn.
Druk met een vouwbeentje (of zoals hier met de achterkant van je kwast) de dikke naden zo plat mogelijk. Door de lijm kun je het linnen een beetje "kneden".
Smeer zowel het houten paneeltje als de achterkant van het karton goed in met lijm. Dus ook goed op de randjes linnen!
Plak beide zijden op elkaar en leg er iets zwaars op (ik leg het onder mijn naaimachine, maar een stapel boeken of stenen oid kan ook)
Na een half uurtje "pletten" is het wel droog en kun je de rest van het huisje gaan bouwen.
Zet eerst één zijkant en de achterkant, aan de voorkant.
Smeer de randjes van de paneeltjes steeds in met lijm, dan zit het huisje straks stevig in elkaar.
Zet de tweede zijkant erin en vervolgens het dak.
Plak tot slot het knoopje erop met een tipje lijm.
Laat de lijm even goed drogen en klaar is je Kersthuisje!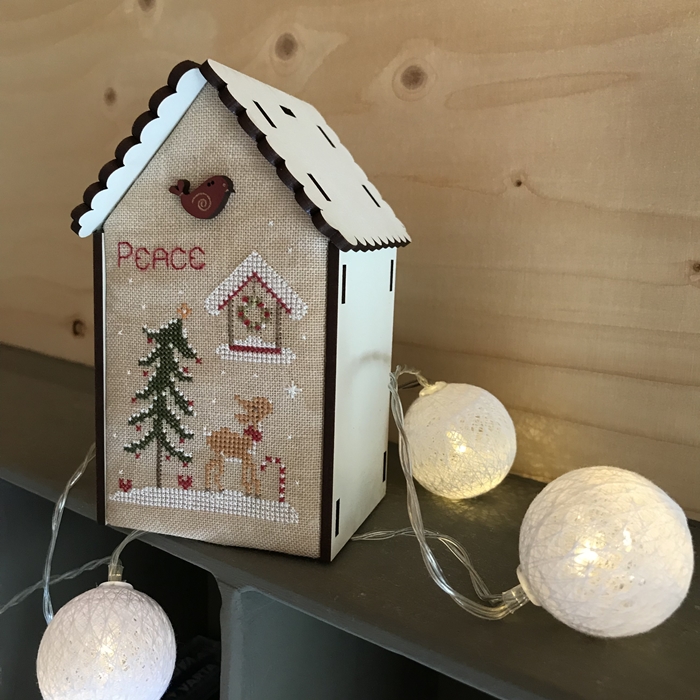 Janny verkuijl Bloem
- 12-10-2018
Wat zijn de rechte maten van de voorkant