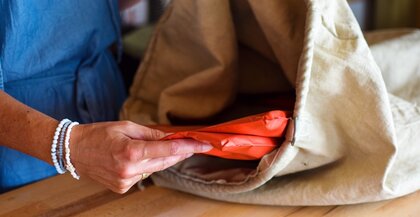 Shipping costs for letterbox parcels within the Netherlands are € 3.90. On request, small orders can also be sent with a track & trace code, for which the consumer pays € 1.19 extra.
For packages that do not fit through the letterbox, the shipping costs are € 7.30 (other rates apply for deliveries outside the Netherlands)
If the total order is more than € 65.00, the Dutch consumer pays no shipping costs. For a parcel shipment above € 65.00, the shipping costs are € 3.50
​Delivery will take place as soon as possible. When paying in advance, Atelier Soed Idee usually sends the ordered products within three working days (but usually faster) after receipt of payment, via PostNL. Atelier Soed Idee will in any case be obliged to deliver within 30 days.
Atelier Soed Idee will take the greatest possible care when receiving and executing orders for products and when assessing applications for the provision of services.
Delivery takes place via standard PostNL shipping. The shipping costs are clearly stated when ordering. The consumer can select the various shipping options during the ordering process in the web store.
The order is insured up to an amount of € 100.00 when registered mail is chosen. If the consumer wishes to make use of this, he can opt for registered mail in the delivery options.
The consumer can also choose to pick up the order at: Heggerweg 19 in Vaassen. You can make an appointment by sending an email or by telephone.
The consumer will receive an order confirmation after placing an order. An invoice is not sent by default. This can be found in the consumer's account. On request, the invoice can still be sent by email.