Tona's Randjes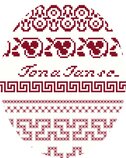 De Randjes are inextricably linked to Soed Idee and continue to attract people! A while ago I bought three red schoolgirl's Samplers from one maker "Tona Janse" from Hellevoetsluis. 2 Samplers are dated 1908 and 1909, the third is probably from 1910. It is clear that this concerns 3 years of handwork education. The Samplers contain a lot of borders (and a few alphabets and number series), which increase in difficulty. Some borders are familiar and others are completely new. I was able to combine them relatively easily into one whole "Tona's Randjes" (coincidentally, my mother-in-law's name was also Tona and she was a fanatic cross stitcher!)
So I have decided to start again this fall with a kind of Randje per Week, but now it's called "
Tona's Randjes
".
Check out the FAQ about Tona's Randjes
On Saturday October 14th we start with Tona's Randjes. You will receive a new part every Saturday morning at 00:00 (Dutch time) for 41 weeks.
The pattern is a total of 201 crosses wide and 550 crosses high.
That is the next dimension:
28 ct/14 ct/11 threads/5.5 crosses per cm: 37 x 100 cm / 14 1/2" x 39 1/4"
32 ct/16 ct/12.6 threads/6 crosses per cm: 32 x 88 cm / 12 1/2" x 34 3/8"
36 ct/18 ct/14 threads/7 crosses per cm: 29 x 78 cm / 11 1/8" x 30 1/2"
40 ct/20 ct/16 threads/8 crosses per cm: 26 x 70 cm / 10" x 27 1/2"
The pattern is all in one color (originally red, but you can of course use your favorite color) and you will need 12 skeins of DMC if you embroider with 2 threads.
Have you made the previous Randjes on banding and do you want to do that again?
Then I have good news! There will also be a modified version of 103 crosses wide, so that it fits on a banding of 20 cm wide. The height then becomes 600 crosses. On 11 thread/28 count band this is 110 cm/43" high. You then need 8 skeins of DMC (embroidered with 2 threads) and at least 130 cm banding.
Below you will find from October 14, the pattern pieces.