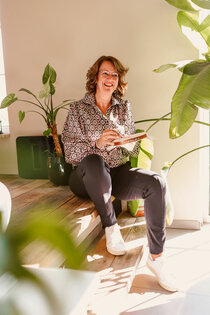 Simone
My name is Simone de Jong and I live in Vaassen, on the Veluwe, with my husband and a student son. Cross stitching has been my hobby for many years. I also quilted for a while, but my heart is really with Cross stitching. However, quilting made me fall in love with all those beautiful
quilting fabrics
.
Atelier (Studio)
Since the beginning of 2011, I started designing cross stitch patterns. Often inspired by the classic sampler patterns and often finished with a beautiful "antique" fabric. You will not come across bright colors and modern designs here. Antique, warm colors and beautiful linen and other high-quality materials all the more.
Since May 2017 I also have a real "Atelier". A beautiful wooden building in our backyard, set up as an embroidery shop, from which I work, send orders, etc. The Studio can be visited by appointment. Please email or call to visit us!
Soed Idee
Many people ask where the name "Soed Idee" comes from. And that is actually very simple; my son used to be unable to say the G and therefore thought of everything as a "Soed Idea". And because my head is always overflowing with inspiration, that name seemed like a Good Idea to me!
Product Range
In addition to
my own patterns
and packages, I now sell an extensive range of national and international Cross stitch patterns, needlework fabrics, threads, books, quilting fabrics and all kinds of accessories and haberdashery. All in the antique atmosphere that I love so much. I'm constantly looking for additions, so there's always something
new
to discover.
Trusted
Thanks to the "Randje per Week" many people have already become acquainted with Atelier Soed Idee. I can also regularly be found at trade fairs and other events in the country, so Soed Idee has become a familiar face. Also on the socials I'm very active in the cross stitch community for years. Not convinced yet? Check the
reviews
!
Fast shipping
I cannot give guarantees, but I always do my best to ship your order as soon as possible. You will be kept informed of the status of your order by e-mail. The orders are collected with great care and packed in the well-known red envelope.
Service
I prefer only satisfied customers! Unfortunately, sometimes things go wrong, I'm only human after all, but we'll solve that together.
Do you want advice or answers to your embroidery questions? Then don't hesitate to get in touch.