Cottage Garden Threads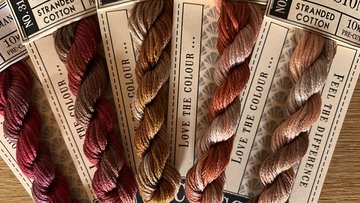 In the hills of Victoria, Australia, mother-daughter duo Pam and Katie, together with their passionate team, design, create and produce these unique, hand-dyed yarns.
At Cottage Garden Threads, the yarns are carefully dyed and processed one by one so that you too can enjoy the beautiful colors and feel the difference.
Based on the finest mercerized basic thread, CGT offers a high-gloss thread that does not knot easily, is light and colorfast and meets the requirements of the Australian Textile Industry.
The short color lengths within each skein create a beautiful effect when embroidering.

The packaging system unique to CGT is designed to preserve the thread color information, color number etc and to avoid knots. Simply pulling on the left side of the strand will untwist the strand and make it ready to use by length.
Each skein contains no less than 10 meters of yarn, which is pre-cut in handy lengths of 50 cm.

Atelier Soed Idee is one of the few sales points of these beautiful yarns in Europe and I'm quite proud of that!