Hands Across the Sea Samplers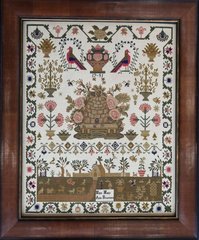 Hands Across The Sea Samplers is a design studio of two friends Nicola and Sandra. They specialize in reproducing antique samplers from Nicola's personal collection, to the highest standards. Most samplers are English, but the collection is diverse.

All patterns are executed in "full color" and are shown in both symbols and colored blocks. The patterns are designed using Au Ver A Soie silk thread "Soie D'Alger" (AVAS), but a DMC conversion is also indicated in the pattern.